MODELS: BD-100, SD-100, SD-600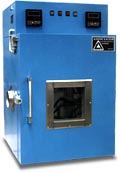 All chambers, including CO 2 /LN 2 Chambers , incorporate non-magnetic welded type 304 stainless steel inner chambers. The exterior cabinet is fabricated of reinforced cold rolled steel with fully welded construction. A textured enamel finish offers a pleasing laboratory appearance.
Doors on most chambers are combination hinged and removable, allowing for modifications and easy access to the test area. All doors are gasketed with silicone offering the expanded temperature characteristics of these materials. Latches all have quick action cam mechanism for positive closure.
The insulation used for thermal integrity in the walls and doors of all our chambers is a high density low "K" factor, non-settling Fiberglas. This insulation optimizes the efficiency of the equipment and minimizes operating costs.
Forced air circulation systems are standard in these chambers to maintain precise temperatures. The fan is powered by a direct drive, heavy-duty electric motor, externally mounted with an integral stainless steel shaft.
The heating systems in our chambers are open wire nichrome resistance elements which combine maximum heat transfer with rapid response time and long operating life. The heaters are located in a plenum, such that, test specimens are not subject to direct radiation.
All chambers feature, as a standard, a high temperature fail-safe control. This fail-safe provides added insurance against damage due to abnormal high temperature extremes. In addition, chambers are fitted with fusible thermal links to guard against temperatures exceeding the upper design limits of the equipment.